WORDPRESS CMS DEVELOPMENT & INTEGRATION
WordPress development involves creating, designing, and maintaining websites using the WordPress content management system (CMS). It encompasses a range of tasks, from setting up a basic website to building custom themes, plugins, and functionalities. WordPress is a popular and versatile platform that can be used for various types of websites, from blogs and personal portfolios to e-commerce sites and enterprise-level solutions. WordPress development requires knowledge of web development languages like HTML, CSS, and JavaScript, as well as experience with PHP and MySQL, which are used in the WordPress core. It also involves keeping up with the latest updates and trends in web development to ensure optimal performance and security.
WORDPRESS WEB DEVELOPMENT SERVICES
The Benefits Of W2G Solutions Services
SEO friendly website.
The Design of Your Website is 100% Customizable
Responsive web development service.
Customized Website Design: W2G Solutions offers customized website design services that are tailored to the specific needs and goals of each client.
Mobile Responsive Design: W2G Solutions ensures that the website is mobile-responsive, which means it looks great and functions well on any device, including smartphones and tablets.
SEO-Friendly: W2G Solutions provides SEO-friendly web development services that help businesses rank higher in search engine results pages, increasing their visibility and reach.
Fast Load Times: W2G Solutions optimizes the website's loading speed, ensuring that the website loads quickly and provides a smooth user experience.
Affordable Wordpress Development Service in Delhi
Our WordPress Advancement Administration approach will uphold you to re-characterize your guests, how your site shows up, and ultimately, how to transform your guests into clients or leads. We comprehend your site is a day-in and day-out promoting vehicle. Regardless of whether you are working your site is persistently working for your business.
CMS/WordPress Web Development
Internet business locales permit your clients to buy from your organization at whatever point it is helpful. It is vital for your online business site to sell, without creating rubbing or entanglements for the clients. At W2G Arrangements, we offer a wide cluster of WordPress Improvement Administrations.
WordPress is the world's most famous site stage and powers more than fifteen percent of the world's best locales. WordPress licenses you to overhaul your site rapidly, evolving pictures, and content, including blog articles, and significantly more. As a web composition and improvement administration, we are prepared to deliver anything from convoluted and dynamic internet-based gateways and online business shops to shortsighted booklet sites to promote your image and make traffic.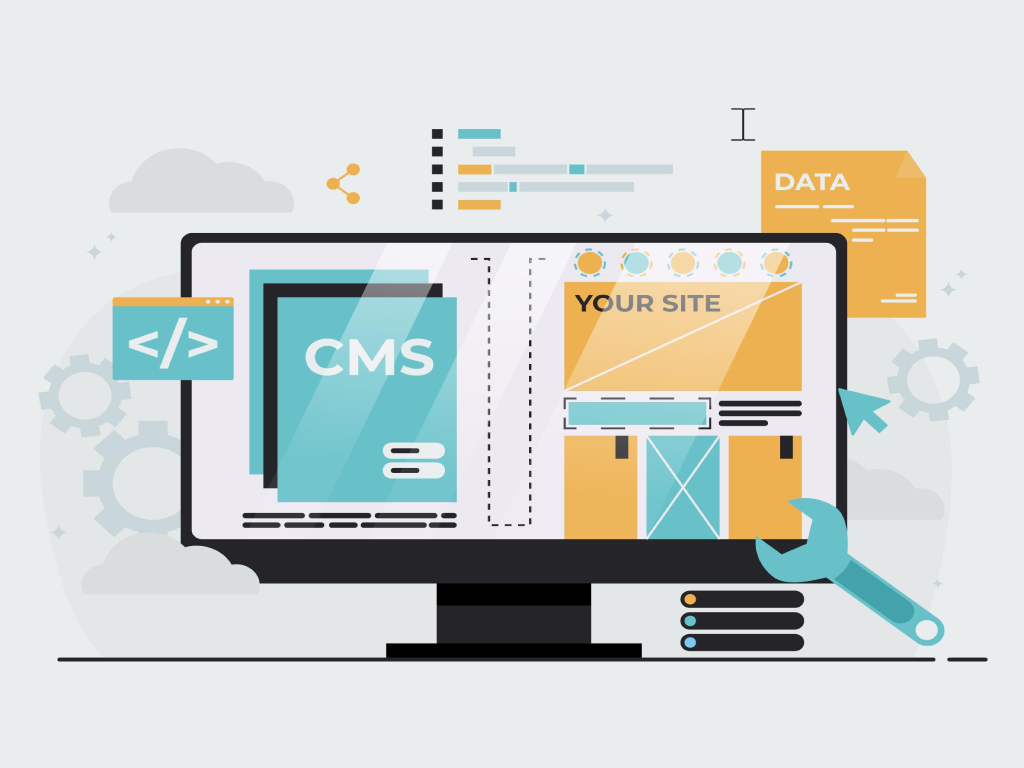 CMS (Content Management System) is a software application that enables users to create, manage, and publish digital content, typically on websites. WordPress is one of the most popular CMS platforms, powering over 40% of all websites on the internet. WordPress is open-source, free to use, and highly customizable, making it a popular choice for businesses and individuals who want to create a website that is easy to manage and update.
WordPress website development involves the use of WordPress to create a website that meets the specific needs of the client. A WordPress website can be customized in a variety of ways, including choosing a unique theme, adding custom features through plugins, and integrating with third-party services. The flexibility of WordPress allows developers to create websites for businesses of all sizes, from small blogs to large e-commerce websites. Additionally, the user-friendly nature of WordPress means that clients can easily manage and update their website content without needing technical knowledge, making it a great choice for businesses that want to take control of their online presence.